West End Health Foundation Awards $10,000 to Start the Cycle for Youth Empowerment Program
Marquette, MI – The West End Health Foundation hosted a check presentation ceremony on June 13 to award Start The Cycle, a local non-profit organization dedicated to fostering confidence and self-esteem among youth in Marquette County through winter fat tire biking and summer mountain biking, with a Special Event Grant of $10,000. The West End Health Foundation is proud to support the mission of Start the Cycle, providing them over $60,000 in grants and sponsorships over the years.
Start the Cycle will utilize the grant funds to acquire two essential bicycles for their annual bike raffle: the PIVOT Switchblade from West End Ski & Trail shop in Ishpeming and the Orbea E-bike from Quickstop Marquette. Excitement continues to build as the anticipation for the bike raffle draws near. The official drawing for both bikes is scheduled to take place on June 25 during the Marquette Trails Fest at Marquette Mountain.
For further information about Start the Cycle or to purchase raffle tickets, please visit startthecyclemqt.org or contact 906-361-9378.
About Start the Cycle Start the Cycle is a dynamic cycling program in Marquette County, dedicated to empowering local youth by building confidence and self-esteem through engaging winter fat tire biking and summer mountain biking experiences. The program strives to create positive, transformative impacts on participants' lives, promoting physical fitness, mental well-being, and a strong sense of community.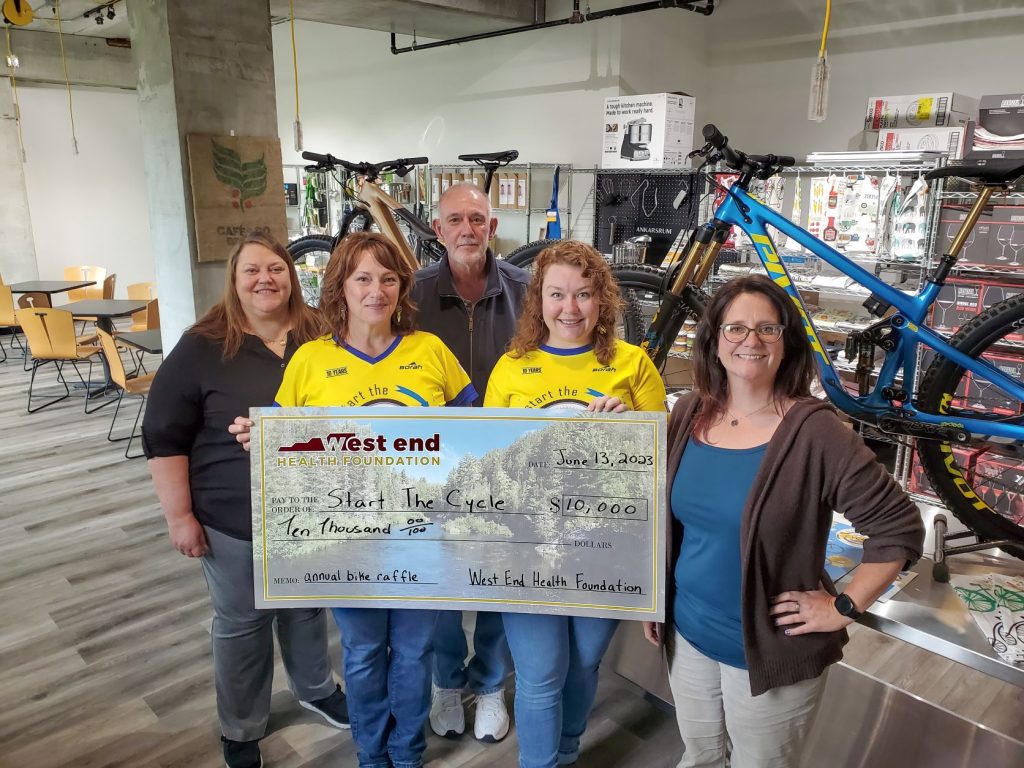 Pictured left to right: Andrea Jackson, West End Health Foundation Board Member; Laura MacDonald, Start The Cycle Executive Director; Tom Edmark, West End Health Foundation President; Lea Dziesinski, Start The Cycle Board Treasurer and Mentor; Kori Tossava, West End Health Foundation Secretary