Capital Grant Funding – Closed
Proactive Grant Funding – Closed
Programmatic Grant Funding – Application cycle closes October 1, 2023
The WEHF considers the following municipalities to be included in Marquette County's West End. The cities of Ishpeming and Negaunee and the following townships; Champion, Ely, Humboldt, Ishpeming, Michigamme, Negaunee, Republic, Richmond and Tilden.
Competitive grant funding for programs and services targeted to residents of the West End are preferred. In some cases, funding for programs and services for Marquette County and Michigan's Upper Peninsula may be considered.
Areas of concern are: 1) chronic disease education, 2) health, 3) wellness, 4) mental health, 5) nutrition, 6) physical fitness, and 7) social and emotional support.
Programs addressing education for: 1) Diabetes, 2) Asthma, 3) Arthritis, 4) Cancer, 5) Heart Disease, 6) Prenatal Health, 7) Dementia, 8) Obesity, 9) Suicide Prevention, and other health-related issues qualify for WEHF grant funding.
Grants are only awarded to organizations with an IRS 501(C)(3) or other non-profit designation, governmental units, and school districts.
Generally, an organization may only receive grant funds once in a calendar year. In special instances, multi-year programs might be awarded grants. The range of WEHF Competitive Grants is from $1,000 to $10,000, with a total of $50,000 gifted.
Competitive grant cycles are set by the WEHF Board of Directors based on available funding. Generally, the WEHF accepts grant applications for the Spring Capital Grant Cycle on or before April 1. The Fall Competitive Cycle applications are due on or before October 1.
Additional information about the WEHF Competitive Grants program can be obtained from the WEHF Manager at manager@westendhf.org or by telephone at (906) 226-6591 ext. 104.
Sponsorships are different than grants. Sponsorships give the West End Health Foundation the ability to partner with organizations and agencies that are working to improve the community we serve – the West End of Marquette County.
Programs, services, or events should take place in the West End or serve West End residents. In some cases, sponsorships are given to support programs, services, or events that are not held in the West End but benefit Marquette County.
Organizations requesting a sponsorship should be a governmental entity or a non-profit organization certified by the IRS.
The West End Health Foundation provides sponsorships of $1,000 or less for
• Organizations that address health and wellness
• Organizations that improve the lives of children and teens
• Organizations that improve the lives of adults and seniors
• Organizations that improve the health of the community
All decisions related to sponsorships are made by the WEHF Board of Directors. Board meetings are held every other month, except in July and August. For this reason, we ask that all sponsorship requests be submitted at least 90 days prior to the program or event, so the Board will have adequate time to act on the sponsorship request. Submitting a sponsorship application does not guarantee a sponsorship as funding is limited.
Questions regarding sponsorships and eligibility can be addressed to WEHF Manager at manager@westendhf.org or by telephone at (906) 226-6591 ext. 104.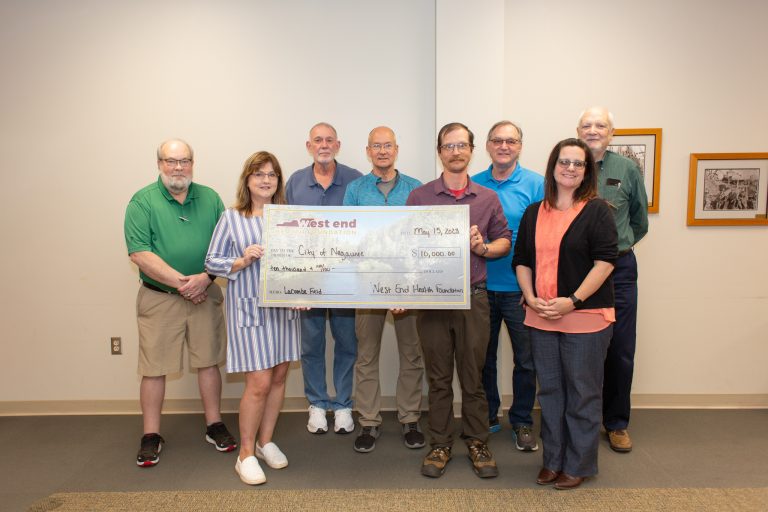 We awarded $50,000 in grant funding to the Spring 2023 Capital Grant Recipients. They received their funding in early May and will be putting their grant funds to great use in the West End in 2023. Read more here.